I wrote a simple Android app to show the A,B,C schedule shifts for Glendale Fire Department, then added Rancho Santa Fe (Kelly Calendar) and Los Angeles City.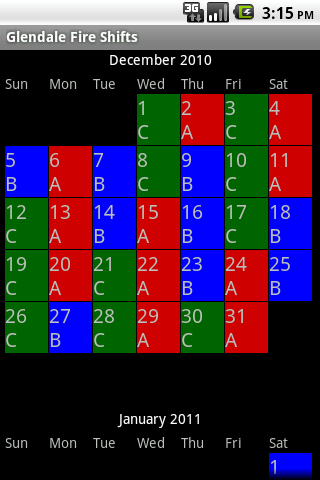 v. 1.0.3 Updated to show now through December 2011
Los Angeles City is ad supported
Los Angeles City also works for:
Sheridan fire Dept. in Indiana
Knoxville, TN
Rural/Metro Knox County, TN
24/48 A. works for:
Jacksonville
South Charleston, WV FIRE and Charleston, WV FIRE
v. 1.0.5 fixes daylight savings bug.
v. 1.0.6 changed to work forever, including accounting for leap years.  Should continue working well through the year 2999.
v. 1.0.6.1 – updated the font size
v. 1.1.0 – syncs to Google Calendar – buggy
v. 1.2.0 – syncs to Google Calendar – quick
v.1.3.1 – Pro and Free versions released – with options!